U.S. POSTAL SERVICE SHIPPING (USPS) WITHIN THE UNITED STATES
(*Effective January 27, 2019)


Media Mail - delivery specified by USPS in 2 to 8 business days. Shipping based on total weight of your order. The weight of each item is listed on each item's description. 

Orders usually ship within 2 business days. Shipping times cannot be guaranteed. They are only estimates based on the USPS delivery times.



*

These prices are subject to change based on USPS Media Mail rates.


FLAT RATE PRIORITY
If you wish your order to be shipped Priority, and it will fit into the USPS "Flat Rate" box, as long as it doesn't weigh more than 70 lbs., you may select that method at checkout. If you are unsure which box you would need, you may contact us and we can assemble your order and check for you and let you know which size box it will require. If you are in a real rush to receive your order and don't wish to wait for us to respond with box size, you may want to go ahead and choose the "Large" box just to speed up your shipping process. If the order will not fit into the "Large box", it will have to be shipped Priority based on your location or in more than one Flat Rate box. *These prices are subject to change based on USPS Flat Rate fees.

The following sizes of flat rate boxes are available: (Small $7.90; Medium $14.35; Large $19.95)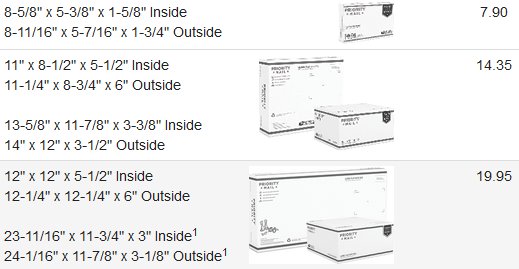 POSTCARDS, PHOTOS, AND EPHEMERA

Lightweight items such as postcards, photos, brochures, ads, etc., will be shipped USPS First Class, at a set rate of $3.50 as long as the total weight does not exceed 1 lb. A small fee is included in that rate to cover protective shipping materials. This rate is subject to change based on USPS First Class postage rates. Be sure to select the "Postcard" shipping option at checkout.

*Mothergooseberry Books

did not increase this price

when USPS increased their rates on January 27, 2019. We will absorb the increase and pass that savings on to you.



ITEMS LISTED AT "FREE SHIPPING"

A few of our higher-priced items are listed at "Free Shipping." Simply select "Free Shipping" at checkout to take advantage of that offer. NOTE: "Free Shipping" items ship at Media Rate. If you prefer to have them shipped Priority, free shipping would not apply.


SALES TAX

We collect sales tax on any products sold within the State of Missouri. The rate we are required to collect is 7.725%.



---
Mothergooseberry Books strives to maintain an excellence in customer service and satisfaction. With that goal in mind, we guarantee the condition of every book as it is described on our website. You are eligible for a full refund of the purchase price, including shipping costs, if your return is a result of an error on the part of Mothergooseberry Books.